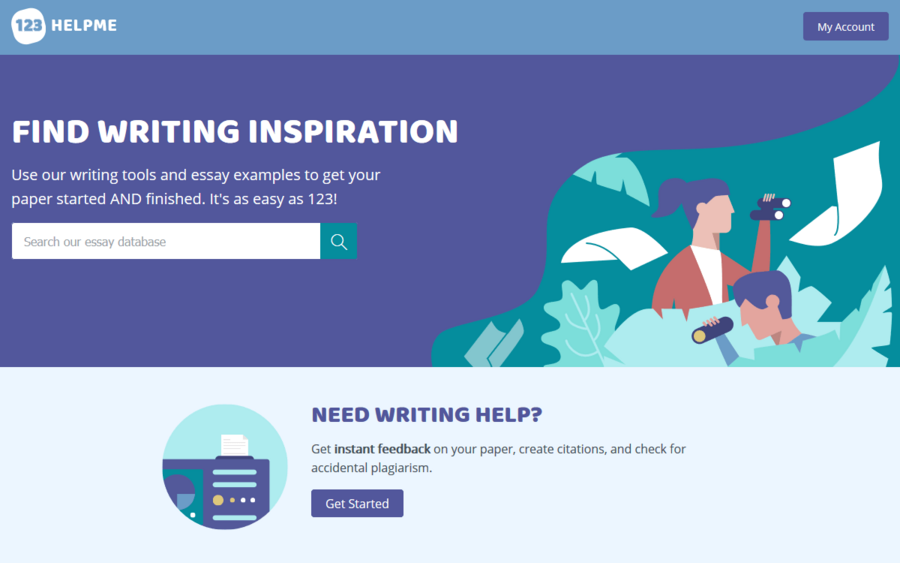 123helpme.com
Description: 123helpme.com ✅ review on EssaysWebsites includes information about the price list, discounts, deadlines, and the quality of paper that you can get on this site. A website like this will be very helpful for finding an essay or speech similar to yours.
Visit site
| | |
| --- | --- |
| Owned by | Barnes & Noble Education |
| Years in operation | 20 |
| Minimal price per page | $10 |
| Deadline | Not given |
| Revision policy | No |
| Refund policy | No |
Pros:
Reasonable subscription prices
Grammar spelling checker
Cons:
No quality quarantees
Numerous complaints about the poor quality on the Internet
No direct contact with the support team
Poor quality of provided papers
First Impression
Despite the lovely color palette and clean-looking design, the 123helpme website is surprisingly complicated to work with. The search bar is operational, but the "Get started" button takes you to the Bartleby Write website for some reason.
The alphabetized list of essay topics is a nice touch, though some items on it are plain weird or hard to decipher. These are just a few of the issues that jump out at you when you visit the site. For more details about our experience with the company, read the full 123helpme essay review.
Deadlines
Considering 123helpme does not offer writing services directly, we can hardly talk about meeting or missing deadlines. However, we believe the reaction time worth including in this 123helpme review. The payment is processed quickly, and you get instant access to the essay database.
However, if you need help or answers, prepare to be patient, but that is another issue with the customer support team we'll cover in a couple of sections.
Pricing
We know what's on your mind. Is 123helpme reliable? At first glance, it seems so. The company offers a trial period. You'll get 7-day access for only $7 before you need to commit to a monthly, quarterly, or yearly plan. These range from $29.95 to $119.49.
However, a careful examination of the Terms of Service made us worry that 123helpme.com = scam. To prevent recurring subscription billing, you have to send a notice seven days before the renewal. This means you must unsubscribe from 123helpme before you even sign up for a trial period. Otherwise, they will charge your credit card $29.95 for the next month, whether you want to use the website or not.
Types of Papers
123helpme.com writing service is nonexistent, but you can browse a vast collection of samples. Essays are prevalent, including argumentative, informative, persuasive, and personal narrative pieces. However, you can also find research and term papers. The labels at the top of the search results page are not filters like you would expect, but tags to look for as you browse the endless collection of papers.
The usability of the website is not its best feature. Do not expect to find usable case studies, reports, or problem-solving assignments. Most topics are only usable for Humanities classes.
Special Features
Considering everything we've learned by this point, is 123helpme legit? It's hard to tell with so little on offer. All you can do is pay for access to the essay database and browse the samples until you find the one that can help you with your assignment.
Without payment, you can only see the preview, while full access provides precisely what you would expect.
The only other option for you is to donate an essay to the cause. If you expect a discount or a bonus for your paper, think again. The company gets the right to use your piece and charge students for reading it, but you get nothing in return.
Moreover, the website only accepts original works. The only redeeming quality is that 123helpme does not get intellectual property rights.
Customer Care
The only way to get in touch with company representatives is through the feedback form. The response time can be anywhere from 30 minutes to several days, depending on how lucky you are. There is no information on the customer support team's office hours, so your guess is as good as ours.
Upon researching 123helpme reviews, we found that many users complain about unauthorized credit card charges by this company and no help from the customer support team. If you use this service, be prepared to deal with any issues on your own.
Quality of Service
It would be nice to end this 123helpme essay review on a high note, but we can't. Even before we got full access to the essay database, we had doubts, but now we can tell for sure, it wasn't worth it. The company does not screen the papers students donate, so the majority are poorly written, illogical, and ridden with redundancies and mistakes.
Instead of getting inspired or finding useful resources, we wasted hours on browsing mediocre pieces that would never earn anything above a C. If you need help with an essay, you are better off buying a custom piece by a reliable essay company than finding a useful sample in 123helpme essay bank.
Similar reviews
FAQ
| | |
| --- | --- |
| Is 123helpme legit? | It is a legit service that has a pool of essays available for a certain fee. The platform's owner is Barnes & Noble Education. |
| Is 123helpme scam? | It is not a scam. However, you can hardly find any perfectly-written or inspiring papers on this platform. |
| Is 123helpme safe? | It is absolutely safe to use the service. Unfortunately, most essays available at 123helpme have incredibly low quality. Therefore, it might not be safe to pass them to your educators without checking beforehand. |
| Does 123helpme work? | You can find hundreds of papers for a wide number of subjects and topics at 123helpme. But most of them are likely to appear completely useless. Most essays have the wrong structure, lack logical connections and strong arguments. |
| Is 123helpme reliable? | It is not reliable to download papers from this service. Otherwise, you might easily get a C grade for your assignment. |
Leave your comment here