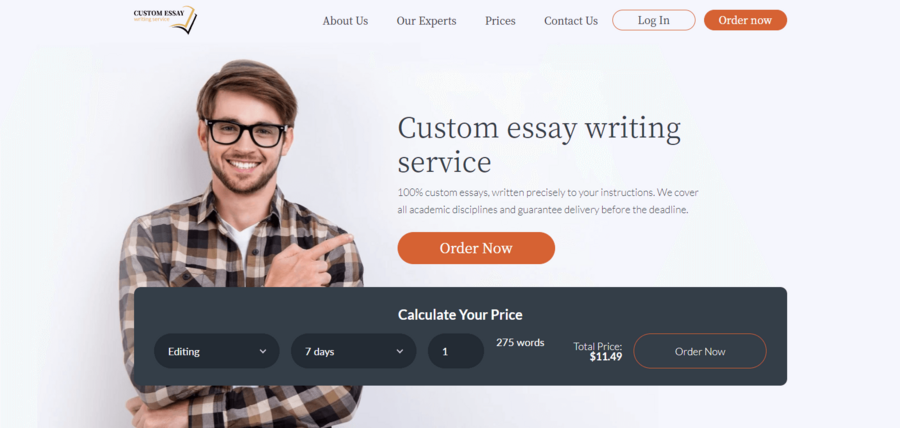 CustomEssayWritingService
Description: CustomEssayWritingService ✅ review on EssaysWebsites includes information about the price list, discounts, deadlines, and the quality of paper
Visit site
Cons:
Old website design
No refund policy
First Impression
I know one should not judge by how something looks, but I just couldn't help thinking Custom Essay Writing Service does not look like a successful site. It is said that this is a young company, although, according to the site, it has been around since 2007.
Perhaps, the text simply dates back to the same time the site was created, as it really looks like there haven't been any changes done since then. But enough about its looks, let us see what it offers service-wise. The range of papers their writers supposedly can produce for you is quite impressive, so the real question is whether they can really deal well with all of those. And the best way to find that out, as usual, is by making an order.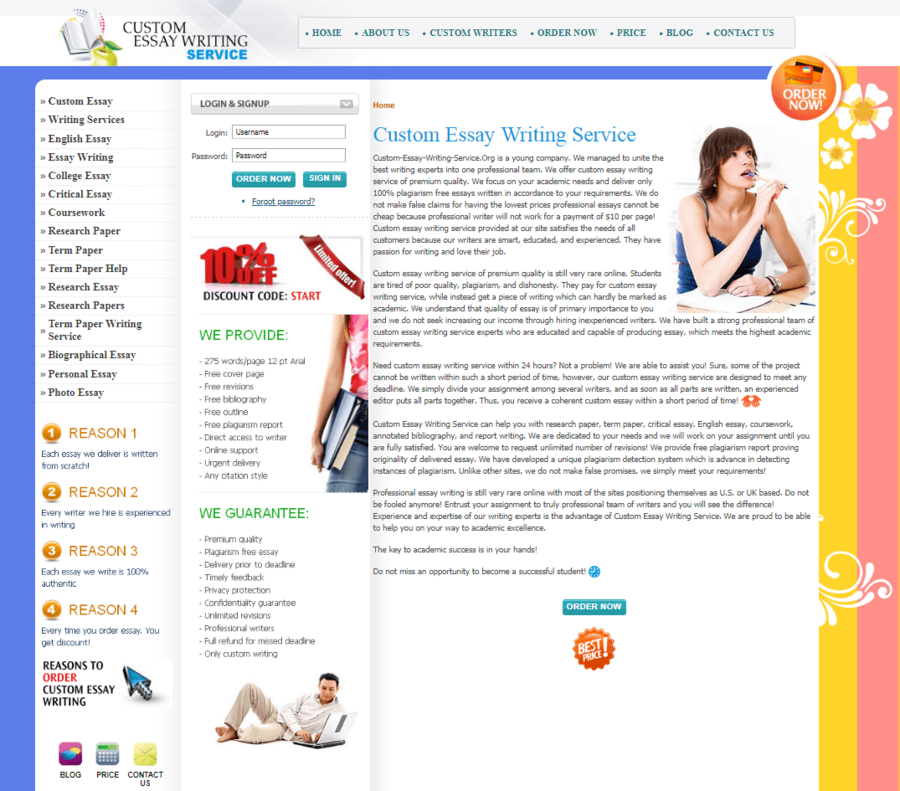 Deadlines
Custom-essay-writing-service.org offers the shortest deadline of 12 hours, which is not the fastest delivery you can meet nowadays. So, even though the site presents it as a really urgent job, it wouldn't be my first pick if I were running out of time with my assignment. The longest deadline you can select in the order form is 2 months, and it's definitely reserved for longer projects since you will hardly ever be given so much time for a smaller task like an essay.
It's nice to see such an option, however, because at some sites you have to negotiate that through the customer support when the company offers help with term papers and dissertations, but the longest period you can choose on the order form is like 10 or 14 days. The sad part is I set a moderate timeframe for my test order, and the writer at CustomEssayWritingService.org managed to miss it, although not by much. I guess they just don't get orders very often, and there weren't enough writers to start working on mine in time or the writer wasn't really accustomed to this type of work.
Pricing
When it comes to prices, Custom Essay Writing Service is far from the cheapest companies, and they explain that by having a strong professional team of writers. So, the site is presented as an alternative to cheaper services that may not always deliver papers of sufficient quality. Here, for a 10-days high-school essay, you will be charged $22 per page, and that's standard quality. The same work done under 12 hours costs $33.99. A college-level paper is only a dollar more expensive per page, so that seems a bit more reasonable.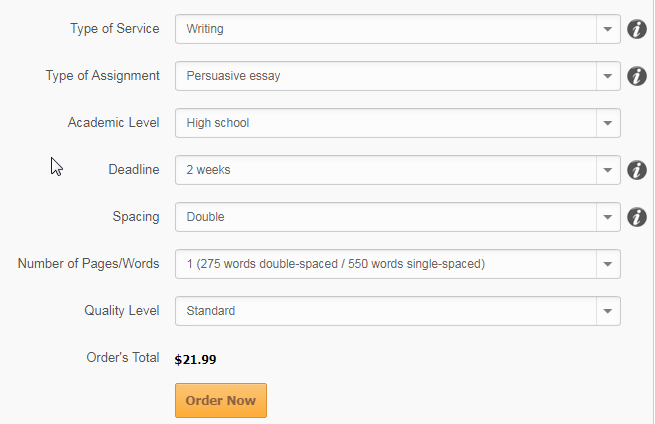 The fact that there is no price table is also a bit disappointing, and you have to check different options by changing the fields in the order form.
Types of Papers
First of all, you can select one of the following services when placing an order:
Writing
Editing
Proofreading
Rewriting
Revision
When you select "writing," the following papers are available:
Essay (a variety of types)
Thesis paper
Term paper
Summary
Review
Research paper
Research proposal
Research report
Presentation (essay or PowerPoint format)
Literature review
Critique
Dissertation
Dissertation chapter
Coursework
Case study
Business plan
Annotated bibliography
Special Features
One of the things considered as special features by some Custom Essay Writing Service.org reviews is the choice of quality level. Selecting a premium writer costs additional 10% of the order price, and a platinum writer is available by paying 30% more than the order's total with a standard writer.
That's a considerable increase in the order's price. However, it seems doubtful to me that it's worth it. First of all, the site focuses on providing a much higher quality of works that are being written by true ENL writers. However, the address of the company behind the site makes me think that you can only get those ENL writers by choosing premium and platinum options. In other words, you will definitely be overpaying for a standard writer.
Customer Care
Before I even contacted customer support, I received three notifications with suggestions in the live chat. That was quite annoying. As for the live support agents, I have to agree with those CustomEssayWritingService.org reviews that claim them to be overall supportive and doing a good job.
Quality of Service
I decided to try a standard writer to see whether they were competent enough, or if I was supposed to opt for a higher-level quality right away. So much for all the loud words about professional writers who needed proper compensation.
Don't get me wrong, the paper was ok. Just not what you expect for that price. I'm also convinced it wasn't written by an ENL writer since some of the word combinations seemed irregular and not sounding naturally. The subject was explored on a very basic level, so I guess I could get a C for that paper, but I could get that kind of writing at a different company for much less money and with a few neat extra features.
Similar reviews
Leave your comment here